I joined a fantastic human and musical journey for two years as violinist with African and European artists (residencies, concerts, tour).

Live music and cultures
«Desert Spirit» at Sziget Festival.
Azalai Laboratoire nomade is an innovative and itinerant laboratory for cultural experimentation. A moving platform that aims at creating a map of the present time connecting our continent with the 'worlds of culture' that populate it, with the new identities that are reflected in it, with the process of encounter and exchange that draw its territories and margins. Europe is living today all the opportunities and contradictions given by the proximity to several generations of Africans.
Africa who lives in Europe will be the main theme of the project, that will explore and consolidate new musical languages that produce shared models of valorization of cultural diversities and creative development of new forms of meeting in the European territory. As on a traveling platform, the artists invited will work on the creation of 'open' productions and on the development of shared modalities of expression.
Crossings, crossbreeding, fusions of the Africa "inside" Europe will be worked out through residencies where artists will participate in a research work on a re-formulation of tradition and on an experimentation of languages of synthesis between the realities and the visions that make up contemporary Europe. These productions will be presented in a series of concerts within festivals and European spaces together with thematic workshops and meetings.
The development of new looks and languages will promote new forms of cohabitation in the European continent. The activities of the project will propose models of creation, production and dissemination that will offer inductive paths for a non-exclusive definition of the differences, for a centralizations of the borders of the continent and for an integration of the European citizens, old or new, within processes of cultural and identity renewal.
Festival au Désert / Prezence d'Africa - Florence (Italy) (19–21 July 2012)
Music, meetings, film projections, exhibition and initiatives about knowledge and dialogue between cultures.
The caravan's first stop-over has been in Florence from July 19 to 21, 2012, involving among others the Mali musician Samba Touré, the Tuareg Tartit group, Dutch cellist Ernst Reijseger who has been working for years on highly personalized syntheses with African music and musicians, classical bass player Alberto Bocini, singer-songwriter Alessandro Mannarino and the jazz musicians Pasquale Mirra, Dimitri Grechi Espinoza and Emanuele Parrini. They worked together on the first basic production, from which the virtuous circle of all European partners and their geo-social and cultural reference areas will develop, starting from the the XX edition of the Sziget Festival of Budapest from August 8 to 12, 2012. In the dedicated venue set up there, among the photo exhibition, Tuareg craftsmanship and public talks, the central nucleus of the musicians who worked for the encounter and for the creations of the festival in Florence will lead on August8, 9 and 10, a series of laboratories with the participation of the musicians proposed by Sziget, Hungarians and/or African residents in Hungary. Each laboratory session will end with an hour of open rehearsals with the prospect of a final jam-session to conclude the closing concert on the evening of the 11th.
Sziget – Budapest (Hungary) (8–12 August 2012)
«Desert Spirit» at Sziget Festival. Music, meetings, tea ceremonies, exhibitions, jam sessions.
The caravan stopped in Budapest from August 8 to 12 August, 2012. At the Sziget Festival a special venue, called « Desert Spirit », was dedicated to Tuareg cultures and ways of life, in collaboration with the Festival au Désert from Timbuktu. The central nucleus of the musicians who worked in Florence two weeks before (www.festivalpresenzedafrica.eu) met for another series of laboratories with the participation of Hungarian and Hungary based musicians proposed by Sziget (Jérôme Li-Thiao-Té, Said Tichiti, Karoly Feher). The venue was hosted under a magnificent Berber tent, where the participants in the project could rehearse every morning. Then the tent was open to the public until night, becoming a sort of meeting space where the festival people could assist and participate to the jam sessions, drink Tuareg tea, participate in the debates and see photos and films about Tuareg music and culture. The final concert was hosted on the Afro-Latin Stage on the evening of the 11th with a great sound and a vibrant energy on stage. An energy and a sound that will be carried through the next steps in 2013.
Wazemmes l'accordéon / Zenith - Lille (France) (8-19 May 2013)
Combining the musical backgrounds and sounds of both local and international musicians, such as Moh! Kouyate from Guinea, Carlou D from Senegal, Wilfred Boni from Benin, Jérôme Li-Thiao-Té from La Réunion, Pasquale Mirra and Dimitri Grechi Espinoza from Italy and the young talent Thibault Dille from Belgium, the Azalai caravan enchanted the audience of Festival Wazemmes l'Accordeon with a multi-cultural musical feast of melodies, beats and rhythms. After four days of intense rehearsals, on 17 May the band played in the first part of Malian star Salif Keita concert at the Zenith in Lille in front of 2000 enthusiastic people. Two days after, Azalai was on stage in the heart of Wazemmes for a vibrant performance crossing Senegalese and Mandingue beat, Ivorian groove, Benin rhythm, Réunion funk, Madagascar dance in a whole musical happening mapping some of the best musical expressions of the African continent. The concert was followed by the band Touré Kouda, the pioneer of African music in Europe since the '80. Having charged new sounds and emotions in Lille, the Azalai caravan is now moving toward Italy, the Netherlands, Serbia, Belgium and Hungary. Stay tuned for more info about the next steps!
Roots festival - Amsterdam (Netherlands) (4-7 July 2013)
Azalai Amsterdam took off at 2nd of june with musicians who have their roots in Holland, Ethiopia, Gambia, Mali, France, Surinam and Belgium. From the first moment on it clicked magically, creating an instant groove with a mix of afro, funk and ethiopian rock. Lead singer MINYESHU's enchanting vocals and explosive dance were fired up by the salvos, yells and cheers of percussionist EBOU GAYA MADA. Catchy yet harmonically and rhythmically advanced compositions of MARK TUINSTRA were given depth by ALY KEITA's rich and virtuoso balofon sounds, while the DAVID NEERMAN's vibraphone added layers of psychedelic effects. In a workshop their sound was wedded to Bombino's desert guitar sound, and in thursday night they gave a concert at the MELKWEG, after Bombino had already given a masterclass to guitar students of the Amsterdam conservatory. The finale was on Sunday, a performance at the Roots Amsterdam Open Air festival. Sun finally broke over Amsterdam, and the band drew a big crowd with an amazingly lively and inspired performance. Several bookers showed interested in the band, and the band is looking for ways to perform more often together as the spark was very special. For now, a large part of the band will continue their sessions at the Belgium SFINX festival, where they will perform the 27th of july.
Festival au Désert / Prezence d'Africa - Florence (Italy) (4-6 July 2013)
The fourth edition of the Festival au Désert/Presenze d'Africa was a special one, as its twin festival in Mali could not take place in reason of the conflict that stroke the region since 2012. In this delicate context the Azalai musical exchange between Tuareg, African and European musicians took an even stronger meaning on the Florence stage, underlined by the presence of a delegation from the festival in Timbuktu. The young Tuareg band Tadalat from Northern Mali, jammed with musicians from Italy, France, La Reunion (Jérôme Li-Thiao-Té). Many France based African musicians created a new sound with their Italian guests Dimitri Grechi Espinosa (sax), Silvia Bolognesi (double bass) and Pasquale Mirra (vibraphone): guitarist Moh! Kouyate from Guinea, bassist Hilaire Penda from Cameroon, the trio of poli-instrumentist Aziz Samahoui from Morocco-Senegal, balafonist Lansine Kouyate from Mali. French singer Piers Faccini and his drummer Simone Prattico jammed with them and enjoyed playing a more intimate set with black-american drummer Hamid Drake. On Saturday night, Italian trumpet Roy Paci gave an ulterior groove to a session that formed the quintessential symbol of the Azalai spirit.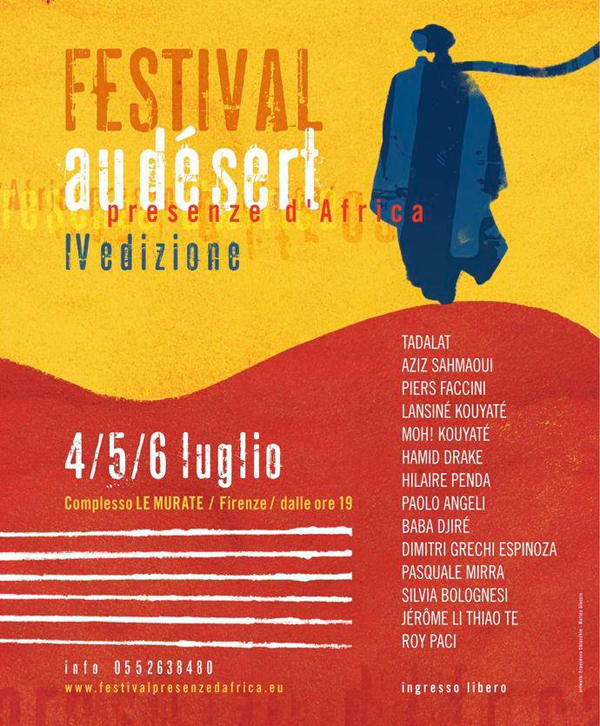 fourth edition of the Festival au Désert / Presenze d'Africa
Exit Festival – Novi Sad (Serbia) (9-14 July 2013)
Having left Florence last week, the Azalai caravan followed its way to Serbia, where it received a warm welcome by the Exit Festival.
The rehearsals took place in the Novi Sad Academy of Music. A young Serbian string quartet (Antonija Barna and Ena Petković violins, Dina Milivojev viola and Ana Ristić cello) integrated the ensemble formed by Said Tichiti (Morocco, guembri and voice), Kandia Kora (Guinea, kora and voice), Minyeshu (Ethiopia, voice), Hilaire Penda (Cameroon, bass), Dimitri Grechi Espinoza (Italy, sax), PeeWee Durante (Italy, keyboards) and Istvan Cik (Serbia, drums).During the festival, the project was welcomed in a unique location in Novi Sad fortress park : a confortable tent with a fantastic view on the Danube. Enveloped in this charming atmosphere, the musicians jammed all nights in front of an eclectic audience, that eventually joined them to sing, dance and play the Azalai tunes. The last festival night, the Azalai concert took place on the Raggae Stage. The final song, called Azalai, expressed the highest level of emotion and sharing. It is a collective composition made during the residency, were every musician speaks about the caravan according to his musical language and feelings. The concert ended with fantastic fireworks and the wish of musicians, audience and organizers to meet again soon and continue to walk together.
Sfinks – Boechout (Belgium) (26-28 July 2013)
23 to 27 July, Azalai stopped in Antwerp for the Festival Sfinks. New musical encounters enriched once more the European caravan on African sounds: Sarah van Impe (Belgium) and Ebou Gaye Mada (Gambia), Kalifa Kone (Mali) – percussions, Satindra Kalpoe (Holland)- drums, Maxim Njava (Madagascar) – basse, Stefaan Blanke (Belgium) – trombone, Eric Morel (Belgium) – sax, Esinam Dogbatse (Ghana) – flute, Marc Tuinstra (Holland) – guitar, Minyeshu (Ethiopia) – voice. Four intense days of rehearsal, many rhymes, songs, sounds, musical languages creating a common world, than a concert on the 27th, great multi-cultural feast full of energy that was transmitted to the audience through one hour of music and celebration. The Azalai atlas is almost complete, see you at the last step at Sziget in August…
Sziget – Budapest (Hungary) (5-11 August 2013)
The caravan of Azalai – laboratoire nomade arrives at the Sziget festival in Budapest, one of the biggest event in Europe which every summer transforms the island of Óbuda on the Danube into a colorful and multi-ethnic city of music.
The artists will bring in Hungary their unusual mix music between Europe and Africa made made up not only of concerts but also of meetings, comparison and dialogue.
Having jammed for five days under a Berber tent in Budapest 2012, performed as opening act of Malian star Salif Keita in Lille 2013, linked with the Festival au Désert from Timbuktu in Florence 2012-2013, mixed with Tuareg band Bombino in Amsterdam 2013, grooved at the Sfinks festival 2013, encountered the Serbian rhymes in Novi Sad 2013, the Azalai caravan finally stopped at Sziget in Budapest, where it gave birth to an original showcase mapping some of the best sounds of the African continent and sustaining their expression within today Europe.
Musicians: Aly Keita (Mali-Germany), Dimitri Grechi Espinoza (Italy), Ebou Gaye Mada (Gambia-Netherlands), Hilaire Penda (Cameroon-France), Istvan Cik (Serbia), Jérôme Li-Thiao-Té (La Reunion-Hungary), Kandia Kora (Guinea-France), Károly Féher (Hungary), Minyeshu (Ethiopia-Netherlands), Moh ! Kouyaté (Guinea-France), Pasquale Mirra (Italy), Said Tichiti (Morocco-Hungary)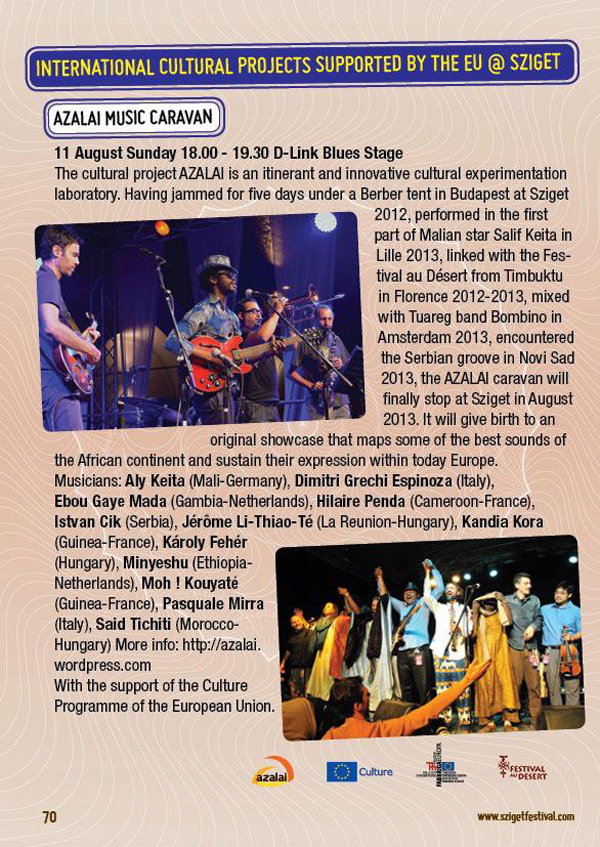 Sziget festival 2013


Taragalte (Morocco) (16 November 2013)
Mali – Europe – Morocco: a cultural caravan
After two years of research, creative residencies and performances across France, Italy, Serbia, Netherlands, Belgium and Hungary, Azalai – Laboratoire nomade returns symbolically to Africa, in the Morocco desert, with a conference in collaboration with the Festival Taragalte of M'hamid el Ghizlane (15-17 November). A moment of reflection – with the partners of the project and other professionals and international experts – on the role of culture in the economic and social development of African countries and in the pacification of conflicting areas, on interaction and collaboration strategies at an artistic level between institutions and professionals of culture from Europe and Africa, on the promotion of human rights and of peace through forms of cultural cooperation.
Together with the conference, the project foresees the presentation of the artistic results of the Azalai musical caravan into Africa after its long European journey. This will consist of a residency with artists of the Azalai project, the Moroccan artists of Taragalte Festival and the Malians of Festival au Désert and Festival sur le Niger. The residency will lead to a fascinating musical production in a spirit of encounter, peace and intercultural dialogue that will be presented on the stage of Taragalte, and can tour other African and European festivals in connection with the Azalai project.
Programme
16 November 2013
h 11:00 – 11:15
Welcome from the authorities
h 11:15 – 13:00
Morocco as a crossroad. Experiences of cultural encounter for reconciliation in the Sahara and beyond.
Driss Alaoui Mdaghri (Morocco) – Fondation Cultures du Monde President, poet, writer

Issa Dicko (Mali) – Expert in Sahel-Saharan cultures

Saida Azizi (Morocco) – Founder of the Moroccan Centre for popular heritage and manuscripts

h 15:00 – 17:00
Festivals in the Sahara and Azalai. For a cultural nomadism between Africa and Europe.
Manny Ansar (Mali) – Festival au Désert director

Rockyatou Attaye (Mali) – Festival au Désert environment manager / local development

Halim Sbai (Morocco) – Zaila association president and Festival Taragalte director

Ibrahim Sbai (Morocco) – Festival Taragalte artistic director

Marta Amico (Italy) – Azalai – Laboratoire nomade project Manager

Maurizio Busìa (Italy) – Festival au Désert/Presenze d'Africa of Florence artistic director

Maurizia Settembri (Italy) – Festival Fabbrica Europa artistic director

Marina Bistolfi (Italy) – Fondazione Fabbrica Europa vice-president

Fruzsina Szép (Hungary) – Sziget Festival artistic director

Adrienn Hiller (Hungary) – Sziget Festival program coordinator

Danka Van Dodewaard (Netherlands) – Festival Roots / Melkweg

Edo Wouter Bouman (Netherlands) – Festival Roots / Melkweg

Vladimir Vodalov (Serbia) – Festival Exit programme director

Biljana Milivojev (Serbia) – Festival Exit

Patrick N'Siala Kiese (Belgium) – Festival Sfinks

Milena Dabetic (France) – Festival Wazemmes l'Accordéon

Dimitri Grechi Espinoza (Italy) – Musician

Said Tichiti (Morocco/Hungary) – Musician

Projection Azalai photo reportage by Barbara Lomonaco
h 17:00 – 17:30
Azalai unplugged.
Dimitri Grechi Espinoza (sax) and Said Tichiti (guembri-voice)

h 17:30 – 19:00
Projection film "Woodstock in Timbuktu" by Désirée Von Throta
h 20:00
Concert/creation 'Caravan Blues'
The Azalai artists: Saïd Tichiti (Morocco/Hungary) and Dimitri Grechi Espinoza (Italy)

Oum (Morocco)

Khaira Harby (Mali)

Amanar (Mali)

Kiran Ahluwalia (India)

Lise Hannik (France)

Aziz Fayet / Aflak (France/Morocco)

groupe Ganga (Morocco)

Mallal (Morocco)

Mariama Kone (Mali)

Charky Blues (Netherlands)

Mariama Kone

Taragalte (Morocco)